Regular price
Sale price
$24.99 USD
Unit price
per
Sale
Sold out
Share
100% Organic Turkey Tail Extract Capsules for Pets
Hot water extracted from 100% turkey tail mushrooms

Made from Certified Organic mushrooms
Gluten-Free, Non-GMO, Vegan
>30% Beta-glucans
No added starch, mycelium, or grain of any kind
300mg capsules, 90 pills, 45-90 servings
Verified for quality at accredited 3rd party labs
Formulated and Designed by Dr. Rob Silver DVM, MS
A capsule version of the powdered Real Mushrooms Turkey Tail for pets that may not appreciate the taste of the powder in their food.
About Turkey Tail:
Turkey Tail (Trametes versicolor) has the highest beta-glucan content of any medicinal mushroom. It also contains triterpenes and other like molecules that help to create its beneficial effects. Turkey Tail can help your dog with any immune system issue, including improving protective response to vaccinations, recurrent infections, and immune-mediated disease, as well as addressing the many factors that lead to malignant cell growth in pets (i.e. cancer).
Turkey Tail's primary function is to support the immune system. Essentially, this mushroom boosts the production of the cells our bodies rely on to kill invading microbes or abnormal cells, such as those that form tumors. This mushroom also stimulates the production of certain cytokines, which are important messenger signals for the immune system. Therefore, turkey tail helps support a healthy immune system and promotes longevity.
Turkey Tail has the ability to modulate the immune system so it is good for overactive as well as under active immune systems. Immune modulators stimulate or attenuate the immune system (whatever the body needs) and may help the body fight cancer, infection, or other diseases. This is about far more than boosting immunity. It's about bringing the ratio of the different immune cells back into balance to enable the immune system to function correctly. 
For dogs or cats experiencing itching due to allergies or hot spots, Turkey Tail mushrooms may help to soothe the itch and help prevent infection.
Dosage:
1 capsule for every 20-40 pounds of body weight or as directed by your veterinarian.

Net Contents: 90 Capsules
For use in dogs and cats or on the advice of your veterinarian.
_____________________
Serving Size: 1 capsule

Amount Per Serving
Turkey Tail Mushroom Extract*± (Trametes versicolor)
300mg
Beta-D-glucans
90mg

 
Other ingredients: Hypromellose (vegetable capsule), silicon dioxide, microcrystalline cellulose, may contain stearic acid
* = certified organic
± = hot water extract
Percent of daily value not established
Have a pup with Copper Storage Disease? Click here
 

to see information regarding copper in Real Mushrooms.
View full details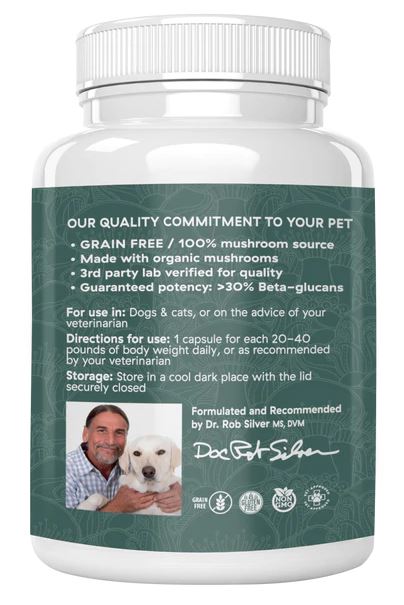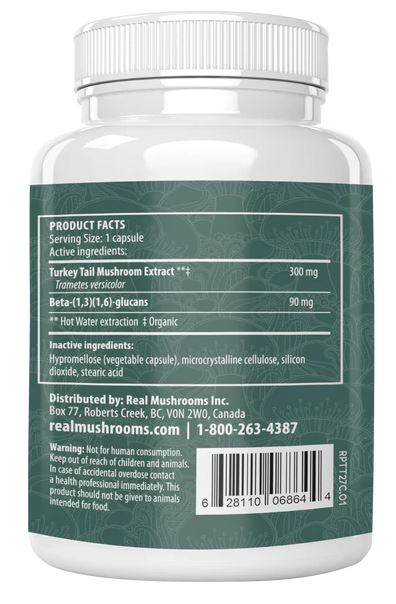 Shipping

Orders cannot be modified after completion. Please allow 1-2 business days for processing (Mon-Fri). Note the only guaranteed shipping methods are UPS Next Day Air and UPS 2nd Day Air.

Shipping Policy

Returns

We are happy to accept returns for unopened items within 30 days of delivery. To initiate a return, please email info@drjudymorgan.com.

Return Policy
Products You Can Trust
Approved by a Holistic Veterinarian with 40 years of experience, you can feel confident that all of the products featured in our store are heathy for your pet.