Regular price
Sale price
$71.29 USD
Unit price
per
Sale
Sold out
Share
I Heart You Herbal Supplement
What is this product used for?

This blend is designed to support heart health and fluid movement between the heart and kidneys. Consult a holistic veterinarian to discuss use of this product in conjunction with any prescription medications, as combinations may be dangerous.
It is recommended that in addition to this supplement you also consider the following additions to support heart health, physiology and tissue strength:
Bone Broth (contains beneficial minerals and amino acids)
CoQ10 or Ubiquinol (important enzyme for the heart)
Raw Organs (contains high levels of non-synthetic Taurine and other amino acids)
Ingredient Highlights

Hawthorne
Hawthorne inhibits the 3,5'-cyclic adenosine monophosphate phosphodiesterase, thus increasing heart rate, blood lipid lowering, anti-oxidative, anti-inflammatory, and vascular endothelial protection.
Dandelion Root
Dandelion Root contains caffeic acid, taraxacoside, taraxasterol and inulin, a polysaccharide. It promotes bile production and bile flow and functions as a diuretic, anti-inflammatory, anti-oxidative, analgesic, anti-hypoglycemic, anti-coagulant and has prebiotic effects.
Shilajit
Shilajit contains Fulvic Acid and more than 84 minerals. It can improve the body's immunity and memory, detoxify heavy metals, is anti-inflammatory, an energy booster, and functions as a natural diuretic.
Lavender 
Lavender contains terpenes which reduce 5HT1A activity and increase parasympathetic tone.
Gingko 
Gingko stimulates pyruvate+malate-dependent State 2 respiration of heart mitochondria and decreases mitochondrial membrane potential.
Ginseng
Ginseng improves coronary flow reserve and increases absolute numbers of various circulating angiogenic cells. It inhibits platelet aggregation and coagulation activity.
Arjuna
Arjuna is anti-ischemic, a potential antioxidant, and antiatherogenic agent and reduces Triglycerides and LDL
Oregano
Oregano contains a variety of terpenes that have been validated to be antibacterial, antifungal, antiparasitic, antimicrobial, and antioxidant.
Garlic
Garlic has been shown to reduce lipid content in the arterial wall.
To view more information on each ingredient and a deep dive into this product, click here.
Full Ingredients
Active Ingredients per tsp (2g)
| Ingredient | Amount |
| --- | --- |
| Organic Hawthorne | 500mg |
| Organic Dandelion Root | 333mg |
| Shilajit | 333mg |
| Organic Lavender | 167mg |
| Organic Gingko | 167mg |
| Organic Ginseng | 167mg |
| Organic Arjuna | 167mg |
| Organic Oregano | 83mg |
| Organic Garlic | 83mg |
Inactive ingredients: None
Cautions: Safe use in pregnant animals or animals intended for breeding has not been proven. If animals' condition worsens or does not improve, discontinue use and consult your veterinarian.
Contraindications: Consult your vet before use if already giving heart medication. 
Dosing
Sprinkle over food
*Up to 20lbs – ¼ tsp per meal
*21-40 lbs – ½ tsp per meal
*41-80 lbs – 1 tsp per meal
*Over 81lbs – 2 tsp per meal
For first time use, gradually increase into your pets diet
Storage: Store in a cool, dry place. Do not freeze.
Supplement Facts:  For animal use only. This product is intended for supplemental use only
TSP per container:  86
Important to Note
Don't use with pharmaceutical medications
Do not use within 2 weeks of any surgery - thins blood
For low grade heart problems (which a cardiologist has not suggested medication for) or for maintenance of heart/blood health for those with a propensity of heart disease.
Especially beneficial for pets that consume dehydrating diets such as kibble
Sourcing
Individually Hand-crafted
Fair Trade for Life Certified Ingredients
Non-GMO Certified
Organic Kosher
Hand-Selected Harvesting
Zero-Waste Certified Business Ingredients
Small Farmer Supportive
No Artificial or Natural Colors or other unnecessary junk
About Solutions Pet Products
Solutions Pet Products is a united, mission oriented, intentionally focused fresh pet food and supplement collaborative. Using traditional farming and modern science to create simple solutions to complex problems, these experts stem from all fields of the pet food industry, from regenerative farmers to nutrition and regulatory specialists to veterinarians to advocates.
View full details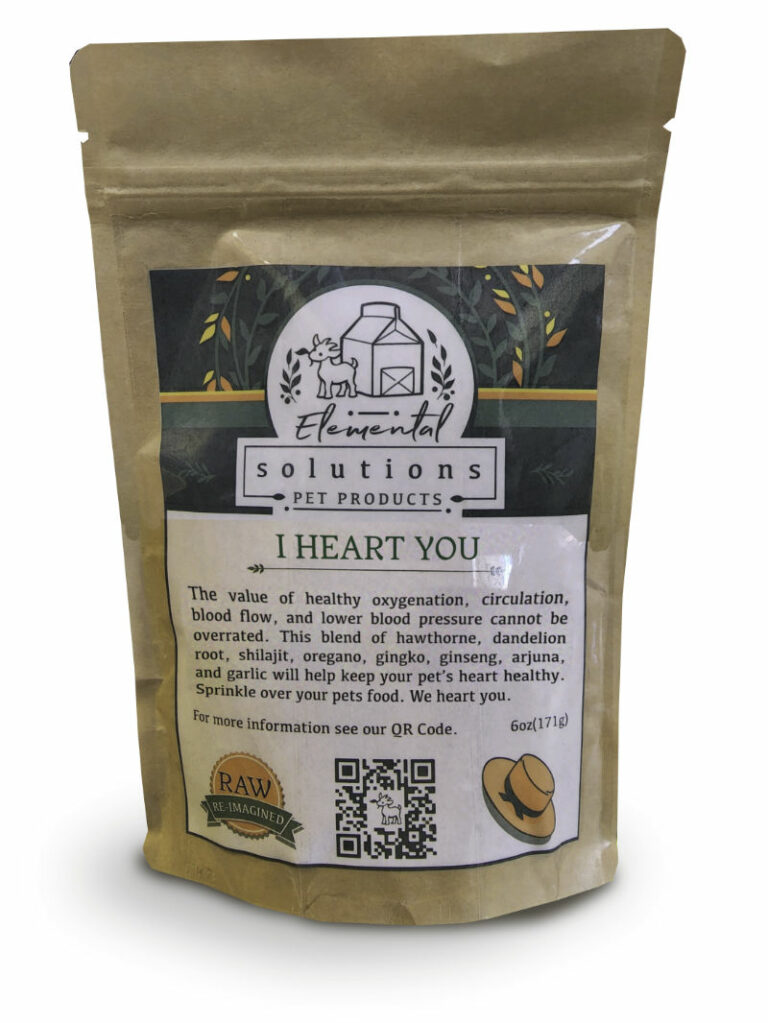 Shipping

Orders cannot be modified after completion. Please allow 1-2 business days for processing (Mon-Fri). Note the only guaranteed shipping methods are UPS Next Day Air and UPS 2nd Day Air.

Shipping Policy

Returns

We are happy to accept returns for unopened items within 30 days of delivery. To initiate a return, please email info@drjudymorgan.com.

Return Policy
Products You Can Trust
Approved by a Holistic Veterinarian with 40 years of experience, you can feel confident that all of the products featured in our store are heathy for your pet.