Regular price
Sale price
$49.99 USD
Unit price
per
Sale
Sold out
Share
A SOURCE OF QUALITY PROTEIN FOR ANIMALS WITH NUTRIONAL INTAKE COMPLICATIONS FROM ILLNESS, CHEMOTHERAPY, OR OLD AGE.
Can be mixed with water & fed with a syringe to animals who are no longer eating, as a source of protein. It is generally recommended to give 1 gram of protein per pound of ideal body weight per day. 2 heaping TBSP per 15lbs of IDEAL body weight is suggested to meet the daily protein requirements for this product. This should only be considered for protein replacement if your pet cannot or will not consume protein or food any other way, or as a supplement to food if feeding has become an issue.
Grass Fed
Family Farm
Gluten Free
Non-GMO
No Hormones
No Chemicals
No Soy
Keto/Paleo
Fermented Protein Content at Least 10%
3.1g Branch Chain Amino Acids
WHY CAPROTEIN®?
Caprotein is the highest quality and easiest to digest goat milk protein powder available. It is made from grass-fed goat milk that contains no antibiotics or growth hormones. Mt. Capra takes some of their whole goat milk protein (naturally 80% casein and 20% whey) and ferment it with probiotic cultures. It is then mixed together with more whole protein, and natural vanilla bean and gently dried on Mt. Capra's Refractance Window Dryer at low temps, preserving the nutrition. The fermented process of part of the protein helps to pre-digest the protein, making it easier to digest and absorb.

WHY DO WE NEED PROTEIN?
Proteins are the building blocks of life, essential for normal growth. Proteins have many important bio-actives including immunoglobulins and enzymes. Proteins form the foundation of muscles, bones, skin, hair, blood and heart. Lack of dietary protein can hinder these foundational areas. Protein generally contains approximately 22 amino acids. Eight of those amino acids are essential because the body cannot produce them and so they must be obtained from the diet. Caprotein contains all of the essential amino acids for optimal health.
WHY NOT A VEGETABLE OR SOY PROTEIN?
Vegetable proteins lack the complete spectrum of essential amino acids which, as the name implies, are essential for muscle building. Supplementing with a protein that lacks essential amino acids is like taking a daily multivitamin that is missing key vitamins. It is also best to avoid soy protein supplements as they contain phytates which block key enzymes, and phytoestrogens which is a form of hormone. Phytoestrogens can disrupt normal hormonal function. Also, "natural soy" is toxic unless enzymatically treated with chemicals to neutralize a dangerous enzyme.
CAPROTEIN® IS MINIMALLY PROCESSED
Most other milk protein powders are made from cow milk and though they claim to be minimally processed they use several invasive processing steps including heating at high temperatures. At Mt. Capra, one of the most important production methods we use is the Refractance Window Drying machine, a drying method that uses conduction, convection and infrared which applies minimal and variable heat sources to gently dry Caprotein and preserve the original integrity that keeps it as close to nature as possible. This unique drying process allows the powerful probiotics and digestive enzymes to thrive from the lacto-fermentation or "pre-digestion" process.

Net Weight: 16oz
Ingredients: Goat Milk Protein, Fermented Goat Milk Protein, Natural Vanilla Bean, Probiotic Cultures
13 grams protein per 2 heaping TBSP

View full details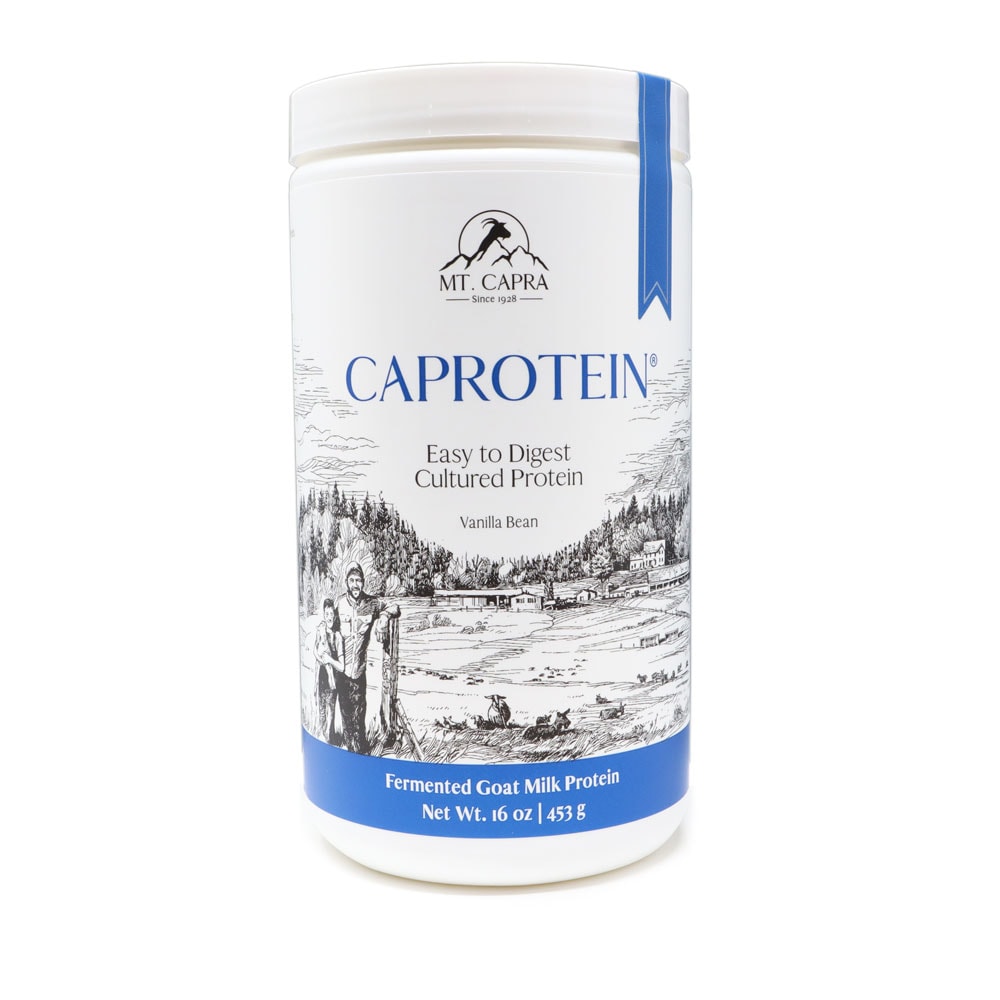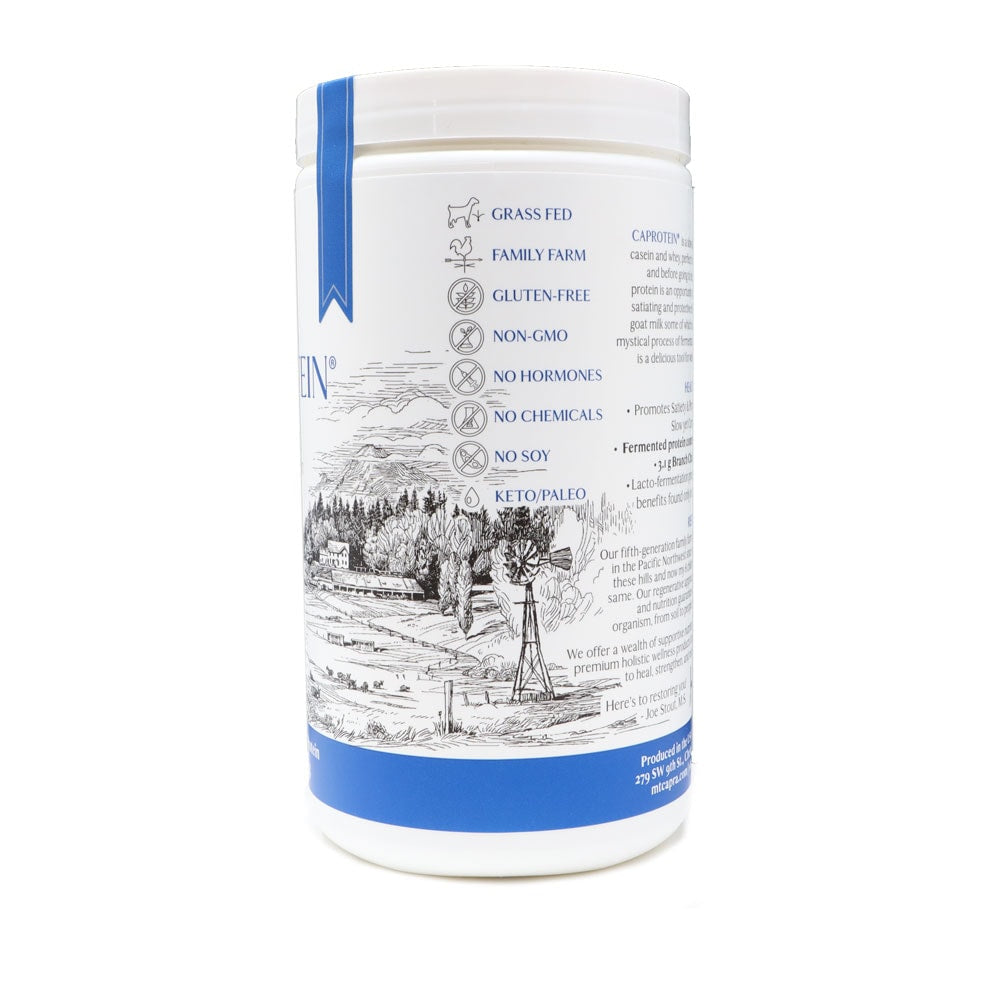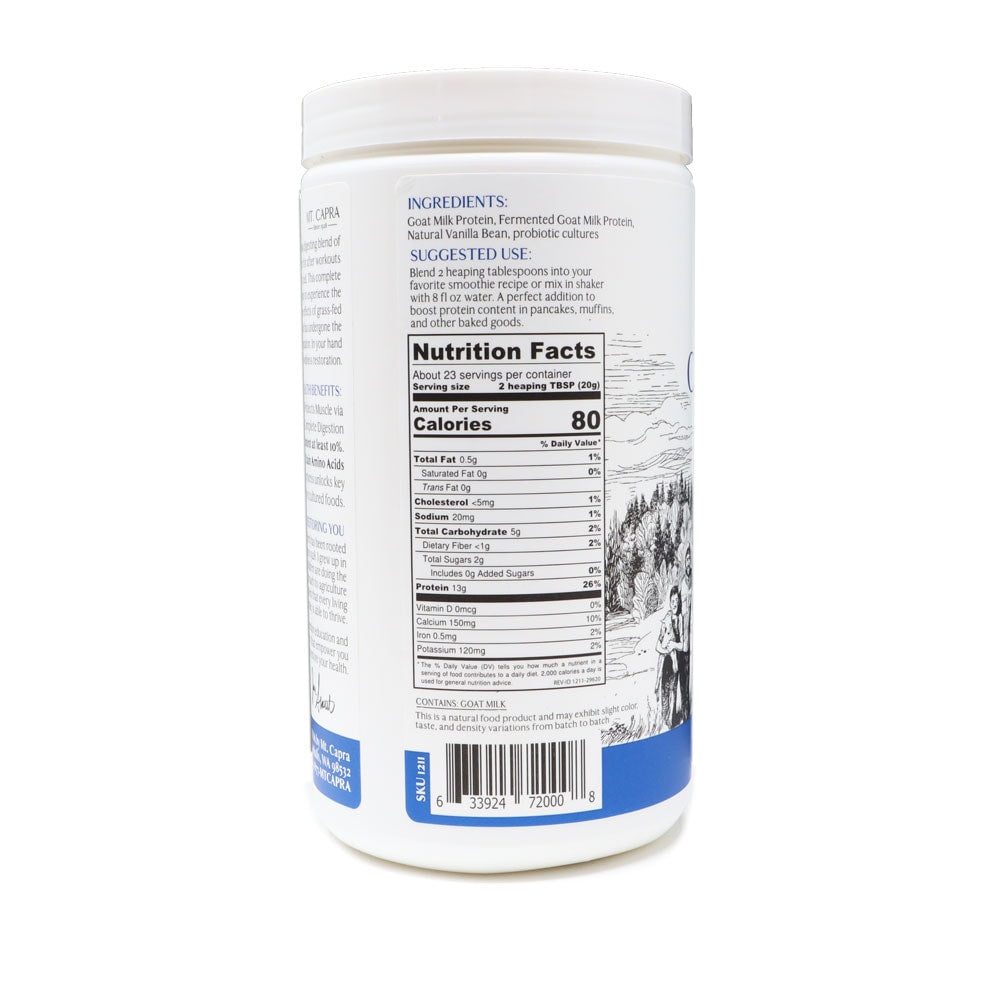 Shipping

Orders cannot be modified after completion. Please allow 1-2 business days for processing (Mon-Fri). Note the only guaranteed shipping methods are UPS Next Day Air and UPS 2nd Day Air.

Shipping Policy

Returns

We are happy to accept returns for unopened items within 30 days of delivery. To initiate a return, please email info@drjudymorgan.com.

Return Policy
Products You Can Trust
Approved by a Holistic Veterinarian with 40 years of experience, you can feel confident that all of the products featured in our store are heathy for your pet.