A Powerful Healing Formula
A twice-daily whole food supplement formulated by Dr. Harvey to help support your dog's immune system. Solaris contains ingredients that have been shown to be helpful in the treatment of some cancers.
Contains a Variety of Organic Healing Mushrooms including Organic Chaga Mushroom, Organic Sheep Sorrel, Organic Reishi Mushroom, Organic Agaricus Mushroom, and Organic Antrodia Mushroom, all of which help balance the response of the body's immune system.

Contains Organic Astragalus, a super herb used in Traditional Chinese Medicine to treat cancer by enabling your pet's body to boost its white blood cell count, produce more antibodies and natural killer cells, and strengthen its antiviral immunity

Contains Organic Wheat Grass, a living, anti-bacterial food that helps to alkalize and detox your dog's lymph glands and blood cells, thus allowing the body to remove toxins more quickly and efficiently

Contains Organic Tumeric, a food high in anti-oxidant and anti-inflammatory properties with the main ingredient curcumin, an anti-viral, anti-fungal agent that has been shown to be helpful in protecting pets against some cancers.
Contains Organic Burdock Root, which has significant levels of vitamin C and vitamin E, both of which act as antioxidants in the body to eliminate free radicals, thus majorly boosting your dog's immune system

Contains Two – 2.5 oz jars.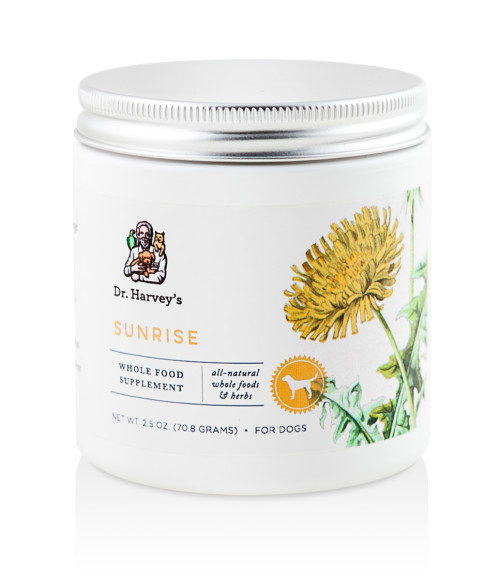 Sunrise Formula
Taken In the Morning
Morning Formula Ingredients: Organic Astragalus, Organic Chaga Mushroom, Ligustrum, Organic Sheep Sorrel, Organic Reishi Mushroom, Organic Milk Thistle, Organic Wheat Grass, Organic Agaricus Mushroom, Organic Turkey Tail, Organic Burdock Root, Pine Bark, Organic Cinnamon, Organic Antrodia Mushroom, Organic Dandelion Root, Organic Chlorella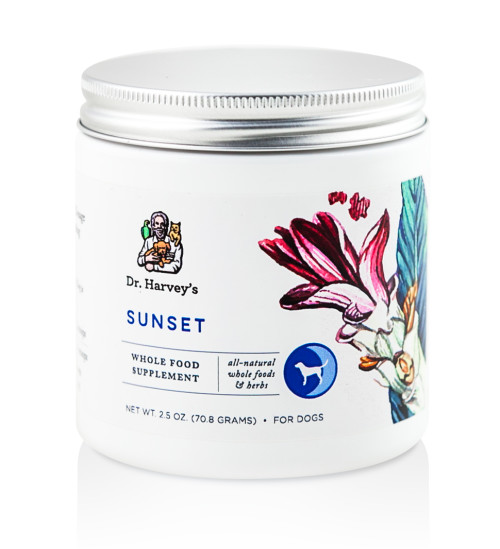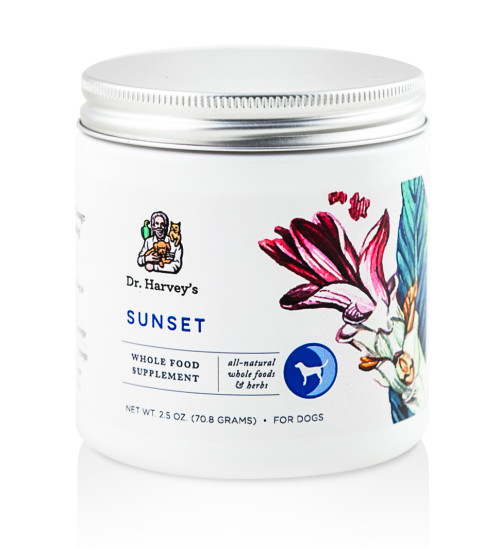 Sunset Formula
Taken In the Evening
Evening Formula Ingredients: Organic Turmeric, Organic MSM, Organic Olive Leaf, Organic Lion's Mane Mushroom, Organic Maitake Mushroom, Organic Beet Root, Organic Red Clover, Organic Cordyceps Mushroom, Cats Claws, Bee Propolis, Aronia, Organic Shiitake Mushroom, Organic King Trumpet Mushroom, Spirulina, Organic Nutritional Yeast
Directions for Use:
Amount may vary based on weight of dog. Use scoop amounts daily listed below. Each of the container holds approximately 75 scoops.
3-18 lb………………………………………….. 1 scoop
19-45 lb………………………………………..2 scoops
46-80 lb………………………………………..3 scoops
81-125 lb………………………………………4 scoops
*For Use in Dogs Only*