Regular price
Sale price
$24.70 USD
Unit price
per
Sale
Sold out
Share
Ultra Potency MCT Oil plus Lauric Acid
TriPlex™ MCT-3 Oil is a unique blend of medium chain triglycerides (MCT) oil, with higher levels of Caprylic Acid and Capric Acid, PLUS Lauric Acid.  Unlike other MCT oils, TriPlex MCT-3 is 100% pure and natural, thus retaining the smell and taste of fresh coconut oil.  Other brands of MCT oils are refined and deodorized, and do not have the natural smell or taste of coconut. In addition to this, other brands do not contain Lauric Acid.
When consumed, MCTs are broken down into individual medium chain fatty acids. Due to its unique properties, MCTs are rapidly absorbed and highly digestible.  Most of these medium chain fatty acids (MCFAs) go directly to the liver where they are converted into ketones. Ketones are a high-potency fuel that can cross over the blood-brain barrier and nourish the brain.
Because the Caprylic and Capric acids in TriPlex MCT-3 oil is rapidly broken down and used as instant energy, it is highly beneficial for athletic dogs, sporting dogs, show dogs and any dog that needs an immediate energy boost.  In addition to the Caprylic and Capric acids, the presence of Lauric Acid further reduces fatigue, and is perfect for older dogs or low-energy dogs that need more prolonged energy.
TriPlex™ MCT-3 Oil has a whopping 7000 mgs of Caprylic Acid, giving it powerful antifungal properties. It protects against yeast overgrowth, prevents and treats yeast infections, kills candida yeast cells (gut and skin), providing added digestive support and skin health.
TriPlex™ MCT-3 Oil is highly stable and resists oxidation to protect cells from damaging free radicals.
Benefits:
 Rapidly absorbed for energy

 Supports healthy brain function

 Supports healthy immune response

 Promotes healthy yeast/candida management  

Perfect for:
 Athletic pets

 Senior pets

 Cognitive support

 Yeasty pets

 Convalescent pets

 Low-energy pets

 Overweight pets

 Pets with fat intolerance

 Pets with digestive issues

TriPlex™ MCT-3 Oil:
 Made from our cold-pressed organic coconut oil

 No palm oil or palm kernel oil

 Not refined and deodorized

 No chemicals, hexane, or high heat used in processing

 Non-GMO

 No Trans Fats

 No Cholesterol

 Medium Chain Triglycerides 93%
     
 Caprylic Acid (C8:0) 7000 mg
     
 Capric Acid (C10:0) 4700 mg
     
 Lauric Acid (C12:0) 1500 mg

Recommended amount to give: 
1/2 teaspoon per 10 pounds or 1/2 tablespoon per 30 pounds of body weight. Start slowly. Start at a quarter of this and build up slowly. Use similarly for cats and other animals.
View full details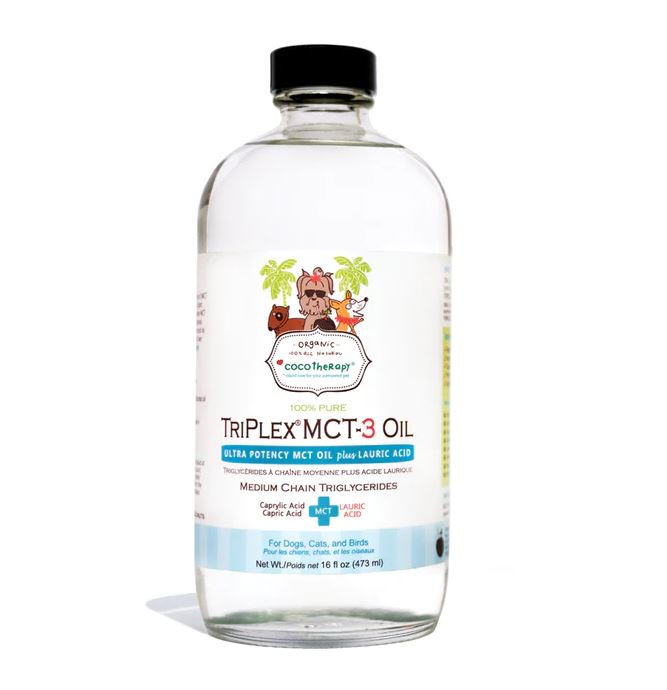 Shipping

Orders cannot be modified after completion. Please allow 1-2 business days for processing (Mon-Fri). Note the only guaranteed shipping methods are UPS Next Day Air and UPS 2nd Day Air.

Shipping Policy

Returns

We are happy to accept returns for unopened items within 30 days of delivery. To initiate a return, please email info@drjudymorgan.com.

Return Policy
Products You Can Trust
Approved by a Holistic Veterinarian with 40 years of experience, you can feel confident that all of the products featured in our store are heathy for your pet.