Kit4Cat is a patented hydrophobic litter that keeps cat urine on top, making sample collection stress-free! The "litter" smells and feels like regular sand with a natural non-toxic repellent coating. It allows veterinarians, technicians and cat parents to easily passively collect a urine sample without resorting to painful invasive procedures like Cystocentesis. The kit comes with everything you need to collect a urine sample.
IN THE KIT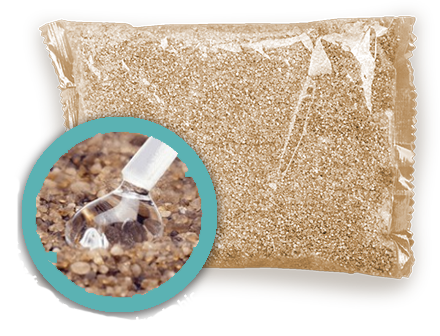 3x Hydrophobic Sand

3x Sample Collection Vials

3x Sample Collection Pipettes
Pour entire contents of litter into a clean tray
Allow your kitty to urinate freely on the litter

Collect urine from surface of the litter with pipette

Fill the vial at least 3/4 of the way with the pipette

Close the vial & refrigerate up to 48 hours

Use with urine strips or take to your vet for further analysis

Before pouring the hydrophobic litter, make sure the litter box is clean and empty.
It is extremely important to read the results according to the outlined time frames.
Refrigerated sample can be sent for further evaluation in up to 48 hours.
CheckUp is for one time use only, and should not be used for multiple tests.
Sometimes, cats like to dig around their litter before or after urinating. Even if the urine is completely covered by the sand, the sample can still be extracted just by moving the sand aside and using the provided pipette.