Regular price
Sale price
$29.99 USD
Unit price
per
Sale
Sold out
Share
Chaga is a fungus that's incredibly rich in antioxidants and grows on birch trees in colder regions like Canada, Maine, Finland and Russia. It supports a healthy immune function and has potent compounds to help with digestion and skin health as well as being a potent anti-oxidant.
Hot water extracted from 100% Siberian Chaga
Still contains all non-water soluble components
USDA Certified Organic
Certified Kosher, Gluten-Free, Non-GMO, Vegan
>8% Beta-glucans
No added starch, mycelium, or grain of any kind
Net Contents: 60 grams (2.1 oz)

Verified for quality at accredited 3rd party labs
3rd party verified Xylitol free
Chaga (Inonotus obliquus) is an unusual fungus – however, it is not technically a mushroom. Chaga is a hardened mass of mycelium (fungal "root" structures) and wood lignins. It develops into a hard "canker" as it feeds on its host tree (in other words, it's a tree parasite). The bioactive molecules that the Chaga absorbs from the birch tree as it grows is what gives it medicinal properties.
Chaga may help with the following, not only for our pets but for us as well:

Protecting DNA from oxidative damage
Promoting healthy digestion and regulating the gut microbiome
Promoting a healthy inflammation response
Supporting effective immune system response
Supporting healthy blood sugar levels
Promoting muscle endurance and stamina
Chaga Extract Dosing for Pets

Chaga, being made up mostly of mycelium, will typically have a much lower content of beta-glucans than mushrooms. However, the other "power" molecule in this unusual type of mushroom, betulinic acid, is derived directly from the birch tree and has potent immune system-supporting power.
One study used a beta-glucan dose of 6 mg/kg of Chaga extract in laboratory animals with experimentally induced cancer. Using that as guidance, a 25 pound dog would receive 68 mg of beta-glucans from Chaga which is the equivalent of 8.5 grams (about 4 tsp) of the bulk powder daily.
An Important Note for Pets with Kidney Stones:
Chaga, unlike other mushrooms, have oxalates present. Oxalates, like found in rhubarb and spinach for instance, or spinach can clog up the filtration system of the kidney, the glomerulus, leading to kidney problems if enough oxalates are ingested with the foods. When foods are cooked, oxalates that are soluble are dissolved into the cooking water, and if the water is discarded, the oxalates do not pose a problem.
There also are insoluble oxalates that are not dissolved into the cooking water. Real Mushrooms analyzed their Chaga extract for both types of oxalates and found that it contained around 2-3% oxalates, mostly being insoluble oxalates residues. This means that in a typical 1 gram serving, 20-30mg (2-3%) of oxalates is lower than servings in many commonly eaten foods like spinach, potatoes, yams, beans and even french fries. As expected we found no soluble oxalates, and the level of insoluble oxalates was lower than normally found in spinach.
If your dog or cat has a history of bladder or kidney stones, then it may be best not to use this species of fungus.
Have a pup with Copper Storage Disease? Click
 

here

 

to see information regarding copper in Real Mushrooms.



View full details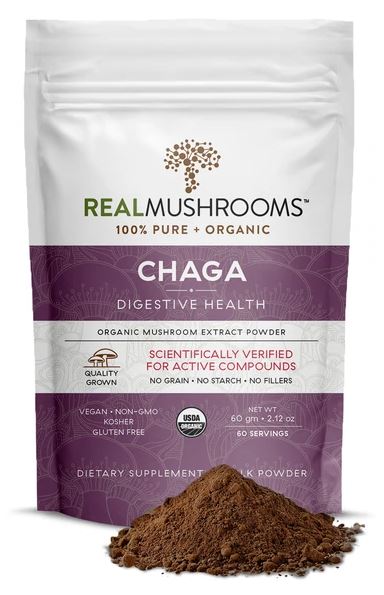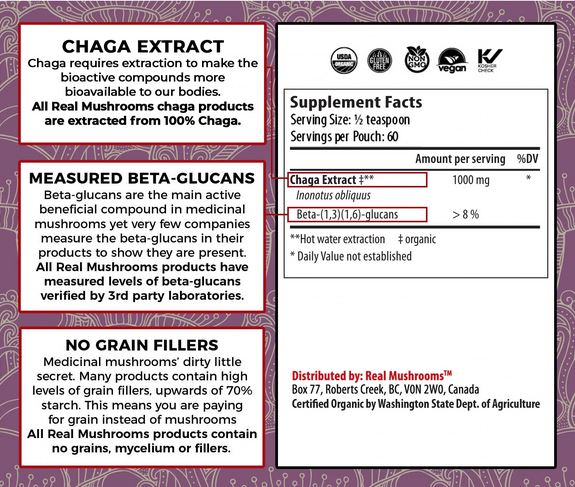 Shipping

Orders cannot be modified after completion. Please allow 1-2 business days for processing (Mon-Fri). Note the only guaranteed shipping methods are UPS Next Day Air and UPS 2nd Day Air.

Shipping Policy

Returns

We are happy to accept returns for unopened items within 30 days of delivery. To initiate a return, please email info@drjudymorgan.com.

Return Policy
Products You Can Trust
Approved by a Holistic Veterinarian with 40 years of experience, you can feel confident that all of the products featured in our store are heathy for your pet.