Regular price
Sale price
$36.99 USD
Unit price
per
Sale
Sold out
Share
Reishi is known as the 'mushroom of immortality' because of its protective, anti-aging, and rejuvenating properties. It helps to modulate the immune system by increasing or decreasing certain immune system functions. Known as a blood builder, it helps enhance bone marrow and regenerate lungs. Along these same lines, it helps with muscle relaxation which can aid in pain management. This mushroom is ideal for our senior pets out there.
Another neat feature of this mushroom is it's ability to treat resistant infections both viral and bacterial. It has been used to help treat upper respiratory tract infections in kittens, which is often a problem due to dust from the litter box.

Made from 100% organic reishi mushrooms
Extracted with hot water and alcohol (dual extraction)
USDA Certified Organic
Certified Kosher, Gluten-Free, Non-GMO, Vegan
>15% Beta-glucans, >4% Triterpenes
No added starch, mycelium, or grain of any kind
Net Contetns: 45g (1.59 oz)

Verified for quality at accredited 3rd party labs
As animals age, like us humans, the immune system can become weaker and they can get ill more easily. Adding a medicinal mushroom such as Reishi to your pet's daily mix can help keep them resilient, youthful, and healthy.
Reishi is an adaptogen, which is a type of nutraceutical that supports the adrenal glands in their management of stress. It has anti-histaminic properties, which when combined with its immune modulating properties makes it a good candidate as an ingredient in a formula for allergies for dogs and cats.
Its strong beta-glucan content, along with its associated triterpenes and other active molecules, allows it to address a number of health conditions in pets. It can help resolve acute and chronic infections in dogs, and can complement pet cancer therapies.
Reishi also has the power to regulate the digestive system. So, if your pet has issues with bowel irritation, you can use Reishi mushroom powder to help keep him regular, decrease intestinal discomfort, and modulate the microbiome.
Our beloved pets are all unique and expressive in their own ways. Some dogs experience separation anxiety, while young dogs may have excessive energy or be active at night. Reishi is known for its capacity to calm the nervous system and induce restful sleep. Older pets may have trouble moving and might experience sleep disturbances. Reishi can help to regulate the sleep cycle and relax your furry friend!
Reishi Tail Extract Dosing for Pets

¼ teaspoon for each 20-40 pounds of body weight daily, or as recommended by your veterinarian.

When there is greater need by a pet, escalating that wellness amount 2-4 times can have a stronger effect. Can be given with or without food.
View full details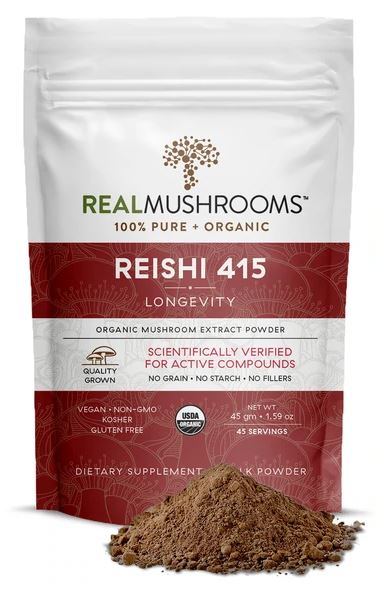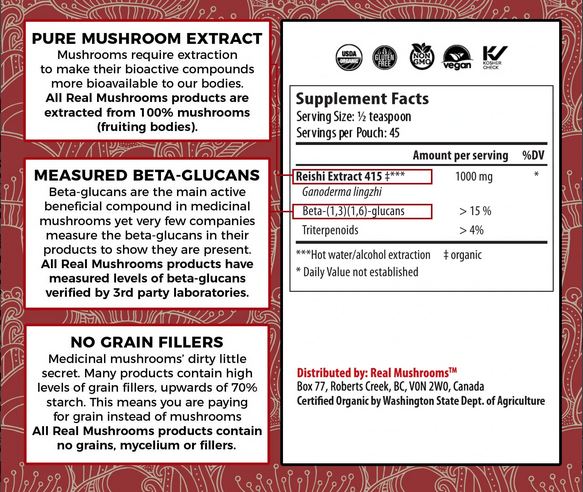 Shipping

Orders cannot be modified after completion. Please allow 1-2 business days for processing (Mon-Fri). Note the only guaranteed shipping methods are UPS Next Day Air and UPS 2nd Day Air.

Shipping Policy

Returns

We are happy to accept returns for unopened items within 30 days of delivery. To initiate a return, please email info@drjudymorgan.com.

Return Policy
Products You Can Trust
Approved by a Holistic Veterinarian with 40 years of experience, you can feel confident that all of the products featured in our store are heathy for your pet.