Regular price
Sale price
$49.99 USD
Unit price
per
Sale
Sold out
Share
RAW MANUKA HONEY UMF 15+ MGO 515+ NEW ZEALAND

Unpasteurized, glass jar 250 g (8.8 oz.)

Product details:
Raw Manuka Honey is one of nature's best super foods. 
Has antibacterial effects due to its active ingredient Methylglyoxal
Aids healing for wounds, hot spots, or areas of mild skin irritation.
Boosts the immune system
Promotes oral health
Improves digestive symptoms
Helps prevent gastric ulcers
Soothes sore throats and relieves coughs
Has antiviral and anti inflammatory properties
May help upper respiratory infections
Manuka honey has multiple uses and benefits and can be enjoyed as food or topically.
Manuka honey, is produced in New Zealand by the bees that pollinate the Manuka bush, is the most beneficial form of honey in the world. Honey has been used for medicinal purposes dating back thousands of years and it's one of nature's richest antimicrobial sources, Manuka honey has an amazing nutritional profile and it is known for its tremendous nutritional abilities (Amino acids, B vitamins (B6, thiamin, niacin, riboflavin, pantothenic acid), Calcium, Copper, Iron, Magnesium, Manganese, Phosphorus, Potassium, Sodium, Zinc).
Manuka honey has a nutritional content up to four times that of normal flower honeys. This is what is called the Unique Manuka Factor.
Administration: Not recommended for diabetics. For use in adult animals only. Ideal oral administration 30 minutes before food unless using this product to aid digestive issues. If using for digestive issues, add to food.
Small Dogs - 0.25 to 0.5 teaspoons twice daily
Medium Dogs - 1 teaspoon twice daily
Large Dogs - 1.5 teaspoons twice daily
Humans - 3 teaspoons twice daily
Cats - topical use only (not toxic if small amount is licked off)
For topical administration, apply a small amount twice daily to area of irritation. Due to its low pH, it could cause a stinging feeling when applied topically to irritated areas.
Unique Manuka Factor
In 1981, researchers at the New Zealand University of Waikato discovered that Manuka honey has a considerably higher level of enzymes than regular honey. These enzymes create a natural hydrogen peroxide that works as an antibacterial. Some strains of this New Zealand honey are particularly rich in hydrogen peroxide, methylglyoxal and dihydroxyacetone.
---
Verifying Genuine UMF Manuka Honey
The term Manuka is used to describe both leptospermum scoparium and K. ericoides. This honey is typically retrieved by beekeepers and comes only from New Zealand Manuka honey manufacturers. People have been eating and using Manuka honey for centuries, but how do you know if you're getting an authentic product.
The minimum UMF rating recognized is UMF 5, but it is not considered beneficial unless it carries a UMF 10+ level of activity. Anything ranging from UMF 10 – UMF 15+ is a useful level, and considered a superior quality.
Genuine UMF Manuka honey should have the following:
a UMF trademark clearly labeled on the front of the container.
It will come from a UMF licensed company and labeled in New Zealand.
It will have the UMF Company's name and license number on the label.
It will have a UMF rating number of 5–15+. If it is labeled without the UMF or without a number, then it is not the genuine product.
According to the UMF association, the UMF rating actually tests the performance of a honey and compares it to phenol, a disinfectant. The Active Manuka Honey Association that does the testing states:
The presence of the special activity can be detected only by an array of scientific testing directly relating to the phenol standard. The rating has a one-to-one relationship to the phenol standard.
The ideal UMF rating varies depending on the intended use, but laboratory studies have shown that Manuka honey with an activity level of UMF 12 to UMF 15 is very effective. 
View full details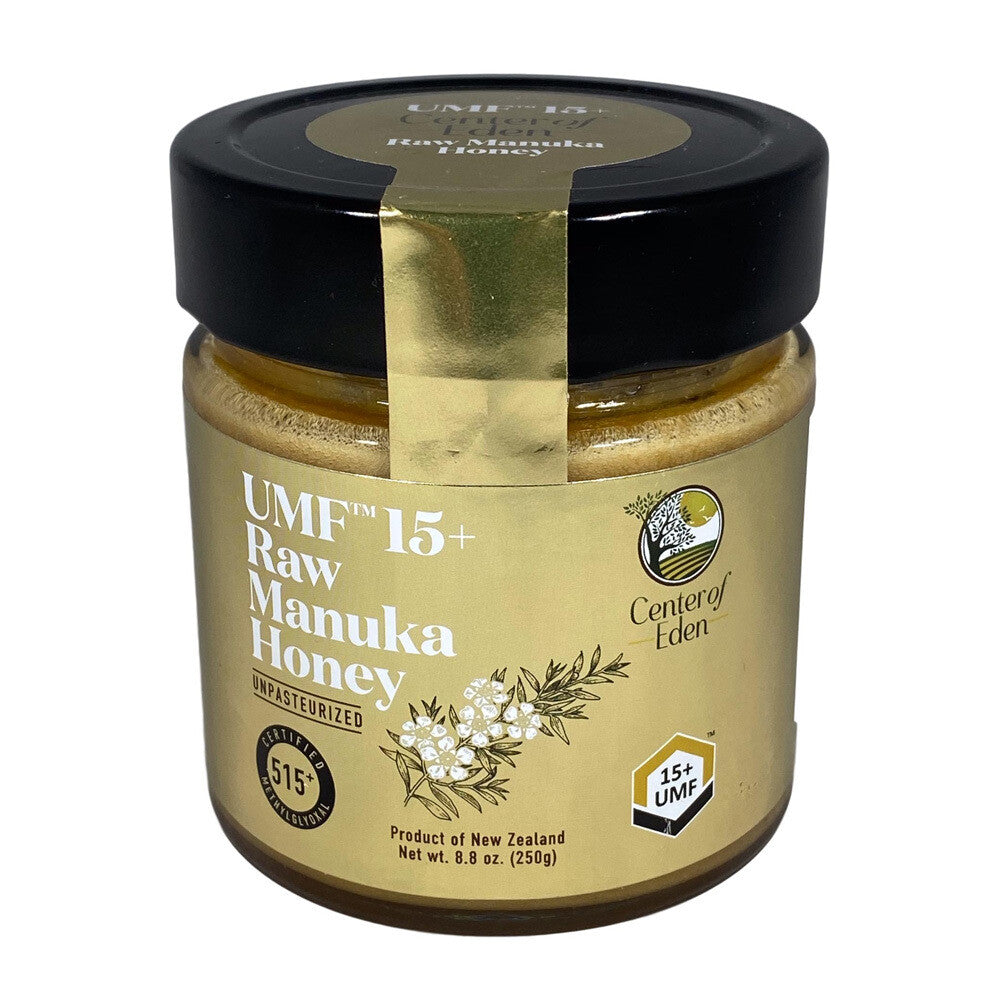 Shipping

Orders cannot be modified after completion. Please allow 1-2 business days for processing (Mon-Fri). Note the only guaranteed shipping methods are UPS Next Day Air and UPS 2nd Day Air.

Shipping Policy

Returns

We are happy to accept returns for unopened items within 30 days of delivery. To initiate a return, please email info@drjudymorgan.com.

Return Policy
Products You Can Trust
Approved by a Holistic Veterinarian with 40 years of experience, you can feel confident that all of the products featured in our store are heathy for your pet.